Tickets ON SALE NOW! Go to CenterTix.com and add a little something to your special someone's stocking. 
Join Alaska Sound Celebration for the 32nd annual Fur Rondy Melodrama, "Peaceful … Well It Was!" at the 49th State Brewing Company – Heritage Theatre, February 25 – March 12.
The beloved Fur Rondy Melodrama, featuring voices of the Alaska Sound Celebration chorus, returns live on stage this year! Take a visit to the town of Peaceful, where life is anything but once a villain arrives in town. In this classic tale of good vs. evil, our hero tries to save the day, with love, land and even long-lost treasure on the line.
Seating capacity is limited and shows will sell out, so get your tickets early!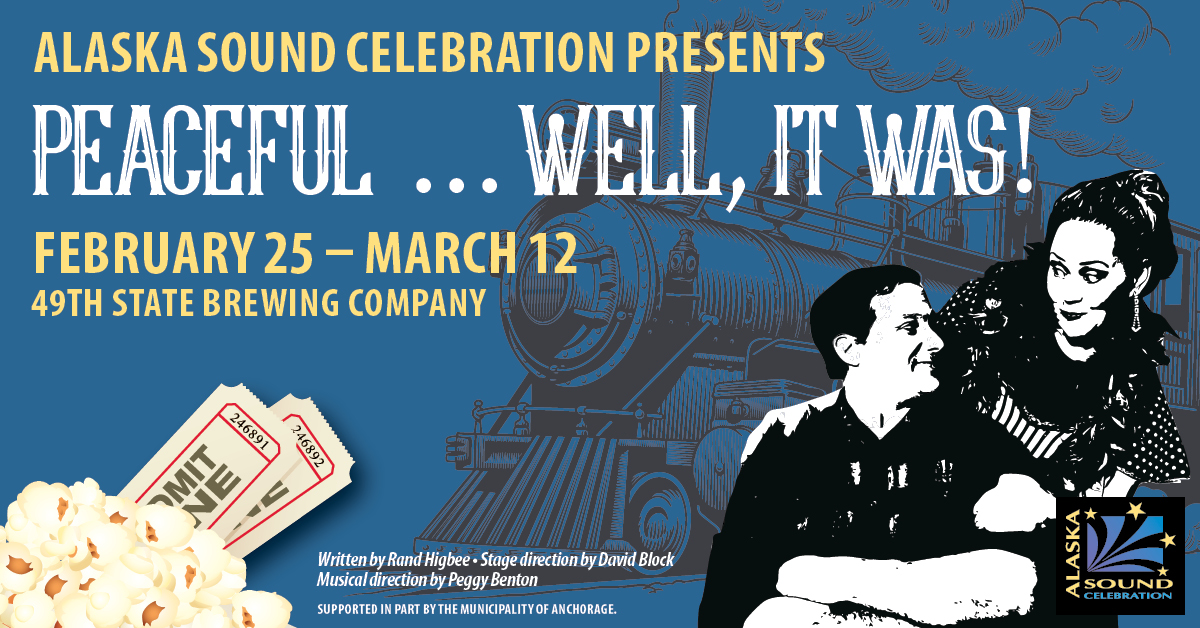 The 2022 Melodrama is written by Rand Higbee, with stage direction by David Block and musical direction by Peggy Benton. A special thank you to the Municipality of Anchorage for grant support.
A brief Melodrama history
For the past 30 years, Alaska Sound Celebration members have been the creative force behind the Fur Rondy Melodrama, one of the most successful events of the Festival held in Anchorage every winter. Each year, the Melodrama is played in front of sell-out audiences over three weekend runs: Friday nights, and Saturday and Sunday matinees and evening performances.
Each year, Chorus members are involved in writing, producing, set building and costume making, as well as starring in the Melodrama.  One of the most popular and fun elements of the Melodrama is the popcorn throwing. Audience members young and old delight in throwing popcorn at the cast, the chorus and each other! From miners to pirates, zombies to Vikings, we've done it all!